Logitech's Mac-friendly MX Mechanical Mini keyboard is down to £99.99 at Currys
That's £50 below its normal UK price, and it comes in a lovely white/grey colour too.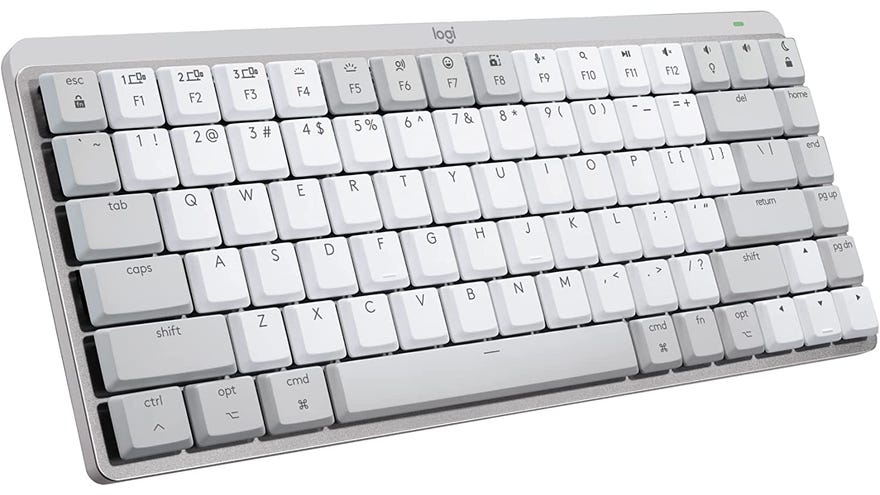 Logitech makes some of the nicest peripherals in the business, from the G502 mouse to their G Pro X headset, but their MX Mechanical Mini keyboard is something special - combining low-profile mechanical switches with a compact layout, 2.4GHz wireless/Bluetooth connectivity and Mac/Windows compatibility, it's a keyboard for all seasons - or at least, a lot of different devices.
I've tested the keyboard for PC gaming, and I've found it quite lovely - so I thought I'd let you know that this model is down to £99.99 at Currys, which is £50 less than its usual price and a good deal for high-grade wireless mechanical.
There's a lot to like here. The mechanical switches used are the same ones found in Logitech's awesome G915 and G915 TKL gaming keyboards, but arranged into a more compact 75% layout. With the short-throw switches and the smaller key count, it's very similar to the feel of a laptop keyboard - but because it's mechanical, it feels like the best laptop keyboard ever. There's no numpad included, as you can see from the photo, but you do get a full row of F-keys which can be programmed to anything you need.
The legends provided are for Mac by default, but the keyboard works for Windows too. Annoyingly, Logitech seem to have removed the option to swap between Mac and Windows layouts which is present on the standard (£125) version of the keyboard (which only reverses the placement of the Alt/Win keys from what I can see), but this can be solved quite simply using Microsoft PowerToys, SharpKeys or other free utilities if it bothers you. Of course, if you're using this with a Mac, iPhone or iPad it just works out of the box as you'd expect!
In any case, this is a lovely keyboard to use and highly recommended - so do take a look at some reviews and consider it for yourself!