Next Honkai Star Rail banner: Featured characters in Version 1.1
Luocha debuts, with details of Version 1.2 expected to arrive soon!
Who is featured in the Honkai: Star Rail gacha right now? Honkai: Star Rail is a free-to-play game monetised via a gacha system, which means that you expand your collection of characters and high-end weapons by pulling them out of loot boxes (if you're lucky). To further the sense of scarcity, many of the game's high-end characters will only be available to pull for (or "warp", to use the in-game term) at certain times.
These limited-time banners typically feature a 5-star character who can't be obtained any other way, alongside three 4-star characters from the standard pool but with a greatly increased drop rate. On this page, we've compiled everything we know about the featured banner characters in Version 1.0 of the game, and we'll be updating with more information about banner start and end times as soon as we know them.
Honkai Star Rail: current event banner
The fourth overall character event banner introduced in Honkai: Star Rail as part of Version 1.1 (Phase 2) is Laic Pursuit, which features 5-star character Luocha as its exclusive unit. He can only be obtained from this time-limited banner, and you can wish for him until Version 1.1 ends on July 18th (exact end times for each region TBC).
See below for full details on the characters with increased drop rates on the current character event banner: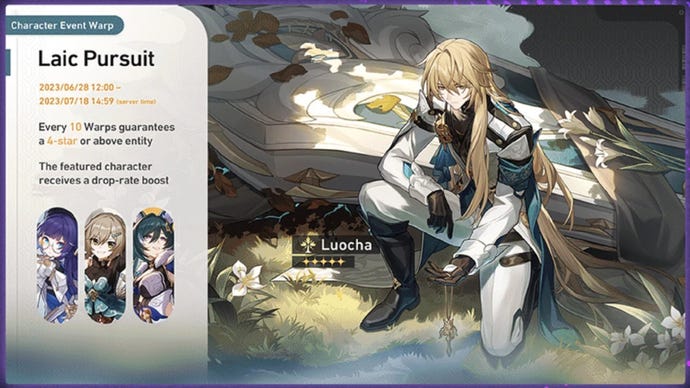 Laic Pursuit
Luocha (5-star, new)
Pela (4-star)
Qingque (4-star)
Yukong (4-star, new)
Luocha is joined by a trio of 4-star characters: the brand-new Yukong debuts alongside spotlights for Pela and Qingque. Unlike Luocha, these characters won't be exclusive to this banner, although Yukong is temporarily exclusive until she joins the standard wish pool in the next update. However, they all receive a drop-rate boost: any time you pull a 4-star item or character from this banner, there's a 50% chance that it will be one of the featured trio.
---
Honkai Star Rail: next event banner
Honkai: Star Rail Version 1.2 is expected to release on or around July 19th, 2023. As the second major content update post-launch, we can reasonably expect some new characters, alongside the introduction of seasonal events and other new features.
Early rumours suggest that highly anticipated 5-star characters Blade and Kafka will make their debut during this version, alongside another new 4-star character Luka. However, we won't know for sure until the official Version 1.2 livestream, which is currently expected sometime around July 7th-8th.
---
Past Honkai: Star Rail banners
To help you keep track of when your desired character or light cone last appeared in the gacha, here is a list of past event banners featured in Honkai: Star Rail:
| Version | Dates | Character Event Warp | Light Cone Event Warp |
| --- | --- | --- | --- |
| 1.0 (Phase 1) | April 26th, 2023 - May 17th, 2023 | Butterfly on Swordtip: Seele (drop-rate boosts: Natasha, Hook, Pela) | Brilliant Fixation: In the Night (drop-rate boosts: Good Night and Sleep Well, The Moles Welcome You, Post-Op Conversation) |
| 1.0 (Phase 2) | May 17th, 2023 - June 6th, 2023 | Swirl of Heavenly Spear: Jing Yuan (drop-rate boosts: Sushang, March 7th, Tingyun) | Brilliant Fixation: Before Dawn (drop-rate boosts: Planetary Rendezvous, Only Silence Remains, Day One of My New Life) |
Knowing what's going on in Honkai: Star Rail's gacha is all well and good, but knowing how to manage your currencies is so much better. Check out our Honkai: Star Rail currency explainer to help you learn your Stellar Jades from your Oneiric Shards.