Best PC gaming headsets 2023: the top wired and wireless headsets
Our top gaming headset recommenations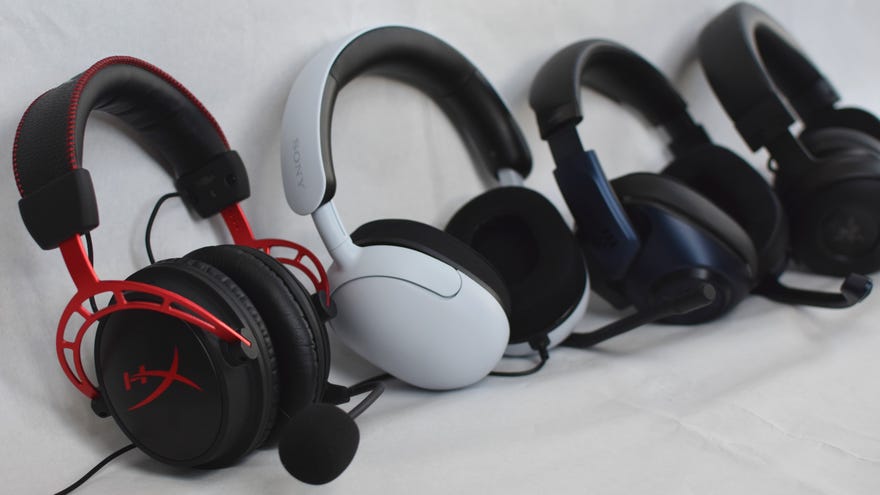 Picking out the best gaming headsets is easy because a lot of microphone-and-headphone combos are, frankly, duff. Why, I don't know – with the best gaming mice and keyboards, there's sometimes the impression that PC peripherals are so relentlessly refined and factory-tested it becomes more difficult to make a bad one, but I've worn way too many headsets with tinny audio or cranium-crushingly tight earcups. This might conjure up a metaphor involving the separation of wheat from its natural protective casing, but really, the amount of grim hardware here actually serves to make the good headsets stand out more.
Here's a guide all of mine and Katharine's favourites, ranging from the canniest budget cans to the very finest headsets with active noise cancellation or wireless connectivity. All tested in full, including for microphone quality, so you can know which are the most suited to Discord chats and/or arguments. For comfort, too: some headsets might sound fabulous, but they're no good if they feel like they're cutting off blood flow after half an hour.
I do hope you find it useful, as although gaming headsets have alternatives in the form of earbuds or speakers, I do genuinely believe that a dependable pair is hard to beat for playing games specifically. They're far more cost-effective for building a 3D soundstage than speakers, which in turn makes them ideal for getting the most out of a game's sound design: approaching footsteps will be clearer in FPS multiplayer battles, while the tension and unease of horror games will be greatly enhanced. Especially since headsets naturally provide a more intimate, close-up sound than even a top-quality set of speakers can.
Best gaming headsets 2023
---
Logitech G432
The best gaming headset overall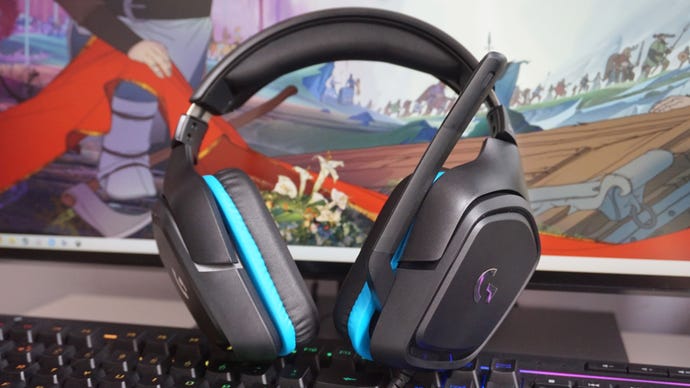 The Logitech G432 is a fantastic all-round gaming headset, regardless of whether you're on a budget or have buckets of money to spend. Compared to similarly priced headphones like the Steelseries Arctis 1 and Razer Kraken X, the Logitech G432 beats them all by a country mile.
Its sound quality is absolutely fantastic for this kind of price, producing sparklingly detailed audio in every game going. It's so clear, in fact, that Katharine had to remind herself that she hadn't accidentally put on Logitech's G Pro X by accident. It's also got a brilliant microphone, and comes with both a USB DAC and a combined and dual 3.5mm splitter to use with your PC, laptop and consoles. There are, admittedly, have a few issues with overall comfort - especially compared to the featherweight Arctis 1 - but when the G432 sounds this good, it's not too hard to overlook them.
Alternatively, if you've got a bit more to spend and fancy some RGB lighting in your headset, then the next best thing is the Corsair Void Elite RGB, which is an updated version of the excellent Corsair Void Pro RGB.
---
Roccat Elo X Stereo
The best cheap gaming headset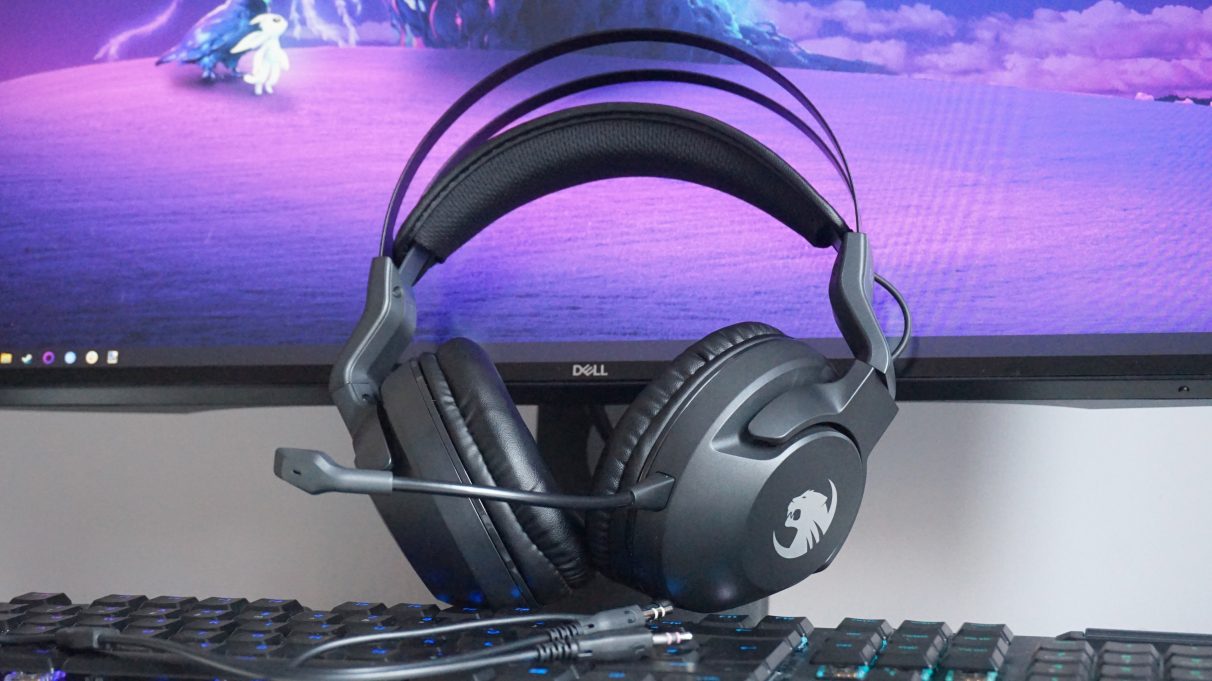 It's not as sonically impressive as the Logitech G432, but the Roccat Elo X Stereo is just too good not to mention alongside it. It's thes entry-level headset in Roccat's Elo range, but it's much better value than its more expensive USB sibling, and a brilliant pick for those on a budget.
Not only is its audio quality top notch, but it's also supremely comfortable - actually more so than the Logitech G432. This is largely down to its brilliant headband design, which is actually very similar to the Steelseries Arctis 7 (which, as you'll see below, is our best wireless headset pick). It's a great headset to wear for long gaming sessions, and the chassis is so light you can forget you're wearing it.
It's also got one of the best microphones on a budget gaming headset. Often these are what tend to suffer the most on lower-end headsets, but the Elo X Stereo's mic is easily as good as the one on the G432. Overall, it's a great headset for those who want something cheap and cheerful, and it's a very worthy alternative to the G432.
---
AOC GH300
The best cheap 7.1 headset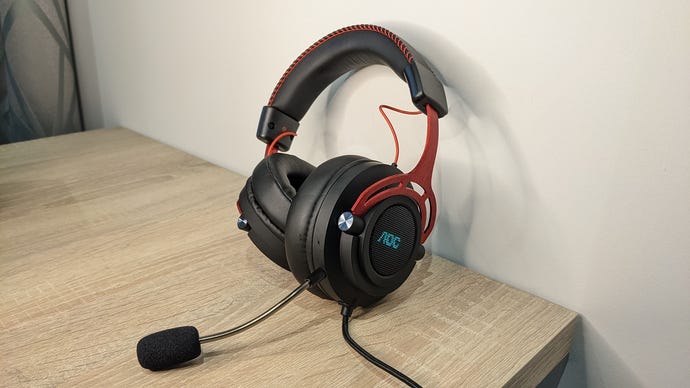 For reasons explained further down, neither I nor the RPS hivemind recommend 7.1 virtual surround sound for all-purpose, all-genre headsets. However, if you do want to try out this drama-boosting format, the AOC GH300 is one of the most affordable gaming headsets to support it – and for the money, is a good-sounding set of cans in general.
The generously proportioned 50mm drivers are houses withing spacious, well-padded earcups. They pump out a lively sound signature that doesn't need any fraudulent bass bosting tricks, and once you install AOC's Audio Centre software, it uses virtual 7.1 by default While the effect isn't exactly subtle, and won't suit every style of game, it works well in shooters: key sound cues are enhanced and dialogue sounds much clearer over all the gunshots.
Build quality is also good for the money, with none of the plastic creaking or overall fragility that cheap headsets can exhibit. The inline control, which features a large volume dial plus a mic mute button and toggle switch for the onboard RGB logo lighting, is on the chunky side – but then it's also relatively easy to use by touch alone.
---
Logitech G Pro X
The best premium gaming headset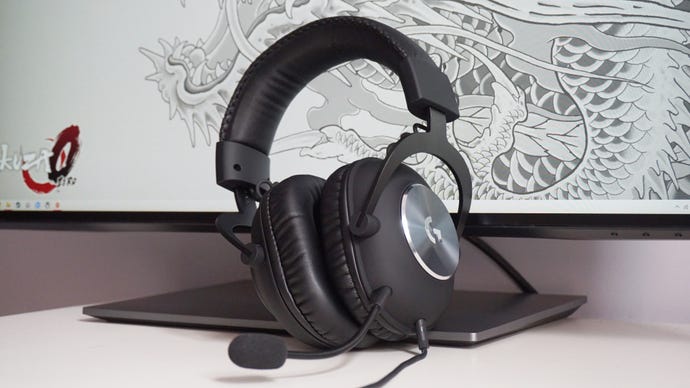 The Logitech G Pro X headset is a seriously impressive bit of kit; one of the most comfortable headset Katharine has ever worn, so says our RPS chief, and it's also got the a lovely-sounding mic too.
Logitech's G HUB software also gives you plenty of options to get your microphone sounding just right, and it really does put all other mics to shame.
The Logitech G Pro X also sounds sublime. Thanks to its rich, detailed soundscape, it's possible to hear sounds you may never even have noticed before, making everything feel more immersive as a result. It also comes with a replacement set of ear pads, loads of different cables and connections so you can use it with other devices, plus a very lovely carry case to make sure nothing gets lost. If you've got the cash, you definitely won't be disappointed.
It's also available in a regular G Pro model, which has exactly the same design but doesn't come with the Blue VO!CE gubbins inside the mic, but if you're looking for something on the cheaper side then the next best thing is the Corsair's Void Pro RGB: the £70 / $55 Corsair Void Elite RGB.
---
Steelseries Arctis 7
The best wireless gaming headset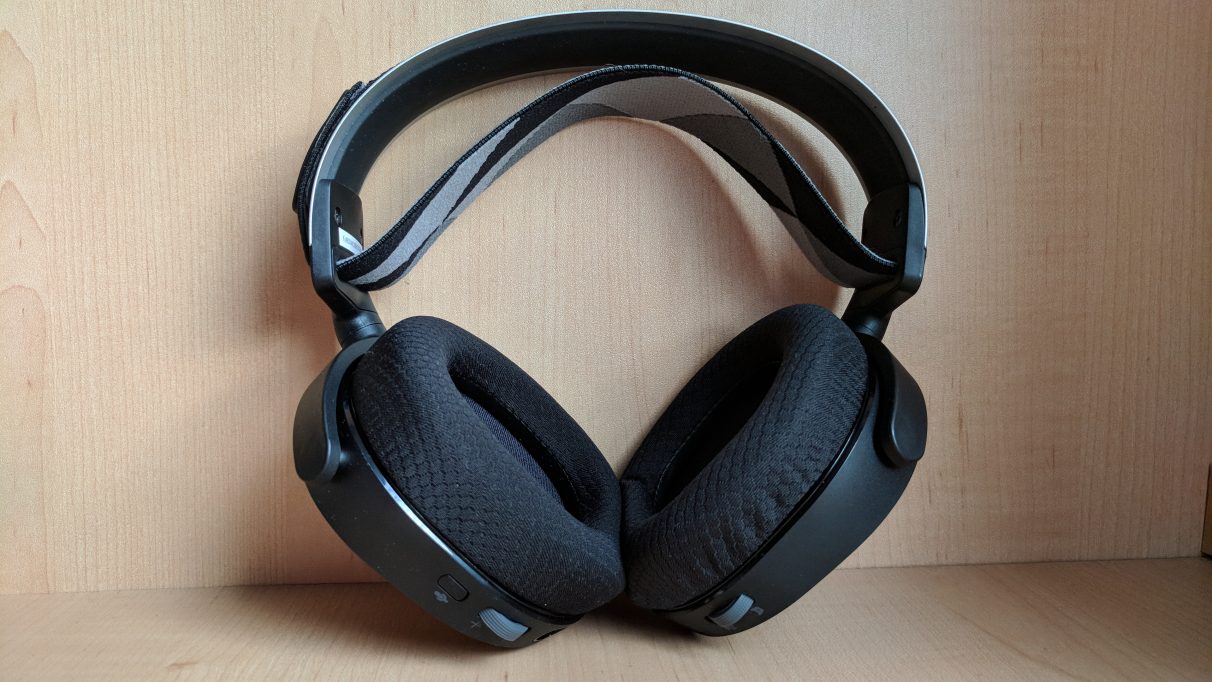 If you've ever had particular trouble in finding a comfortable headset, then the Steelseries Arctis 7 is a revelation. Its ski-goggle headband might not look as comfy as other headsets with fistfuls of padding to their name, but its clever suspension design means the steel frame never actually touches your head, allowing for hours of use without issue.
What's more, its wireless transmitter isn't just a little USB stick - it's got its own cable, so you can position it wherever you like for the best signal. You also get a regular 3.5mm audio cable so you can use it as a wired headset as well if you prefer.
The Arctis 7 is more expensive than a lot of other wireless headsets, including the ones on this list, but it does come with handy extras like its ChatMix slider. This lets you filter out all game music to focus solely on your multiplayer chat, and it works vice-versa as well, helping you drown out those screaming 11-year-olds who can't believe you didn't make that headshot from halfway across the map.
---
HyperX Cloud Alpha Wireless
The best gaming headset for battery life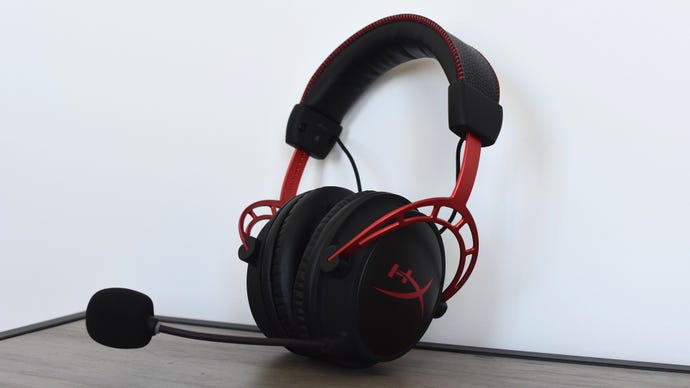 For an idea of how ridiculous the 300-hour battery life of the HyperX Cloud Alpha Wireless is, the headset that previously held this spot – the Sennheiser GSP 370 – promised 100 hours. And those are just the official estimates, so if you go easy on the volume, the Cloud Alpha Wireless might be able to last even longer. Me? I lost track after about 120 hours, but was able to use this as my main headset for several months before it finally called it quits. There does appear to be an issue with battery reporting, at least on my unit, as it never stopped claiming to be at 100% charge even as it took its last breaths, but accurate reporting is far less important when you can go entire seasons without needing the charging cable.
Best of all, the Cloud Alpha Wireless' stamina is just one quality among many. As per usual with HyperX's Cloud headsets, it's lovely and comfortable, with memory foam earcups and a well-padded headband. It sounds rich and balanced, without any EQ rejigging required. And, while the microphone isn't the most crystal-clear boom model I've used, it's plenty good enough for casual play.
It is expensive, though, so while the elongated battery life isn't the only enticing thing about the Cloud Alpha Wireless, it is a luxury in every sense of the word.
---
Turtle Beach Stealth Pro
The best noise-cancelling gaming headset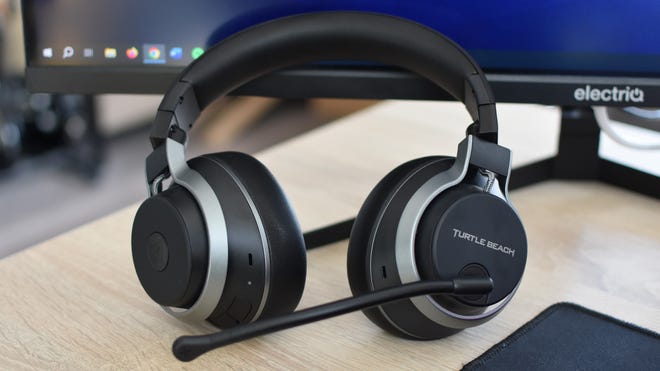 It's an extravagance, but gaming headsets with active noise cancellation (ANC) are useful when you can't set your desk up away from the hums and whirrs of household noise. Whether it's a nearby washing machine, a TV in the other room, or indeed the fans in your own PC, ANC can quieten or even completely silence distracting background drones.
The Turtle Beach Stealth Pro is an excellent example of ANC in action, and wireless to boot. Enabling the noise-cancelling effect (you can switch it off to save battery) only enhances the detailed, prudently balanced sound of its massive 50mm drivers, and it succeeds at significantly reducing the volume of louder noises while making quieter ones (like traffic on the street outside) more or less silent.
Microphone quality is pretty good as well, and despite a tight fit, there's enough padding to keep the Stealth Pro reasonably comfortable. The 12-hour battery life isn't as impressive, but there's a solution right there in the box: a spare battery that can sit charging in the USB wireless receiver unit. When the Stealth Pro runs dry, you can simply pull out the depleted battery, replace it with the charged one, then pop the empty battery in the charger while you continue listening. In theory this alternating system could keep the Stealth Pro going forever, or at least until the Earth runs out of energy and we go back to playing games with sticks and rocks.
---
Razer Kraken V3 Pro
The best gaming headset with haptic feedback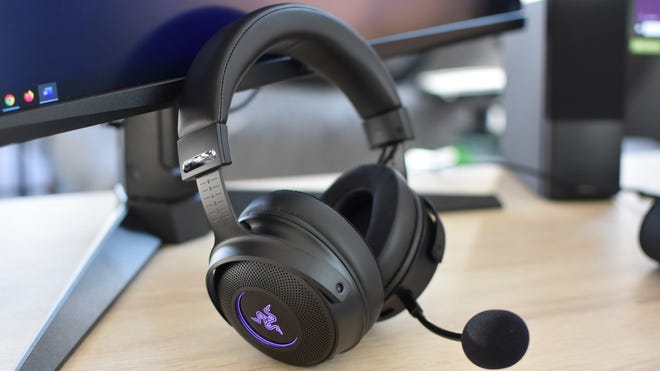 Razer and Corsair both make gaming headsets with haptic feedback, sending vibrations into your skull to give loud sounds (like gunfire and grenade blasts) a more kinetic kick. The Razer Kraken V3 Pro shows this is more than a mere gimmick, giving those dramatic moments so much more impact that on some occasions I actually recoiled with surprise. Razer's particular haptic tech, HyperSense, is pretty smart too, dynamically adjusting the intensity and position of the vibrations to match the loudness and location of the sounds that trigger it.
It's a very pricey headset, even considering the haptics, but it still provides overall quality to match. With or without HyperSense switched on, it sounds marvellous, and the cushy padding around the earcups and headband keep it comfortable to wear for hours. Build quality is high throughout, and there's a full set of controls on the headset itself, including a volume wheel.
The right earcup houses a HyperSense toggle button, which switches the effect between Low, Medium and High levels (or turns it off entirely). Low and Medium are the ones to go for, I reckon - on High, the sound of the motors ends up competing with the sound from the drivers, and there's enough kick on the lower settings anyway.
---
Astro Gaming A30
The best gaming headset for multiple devices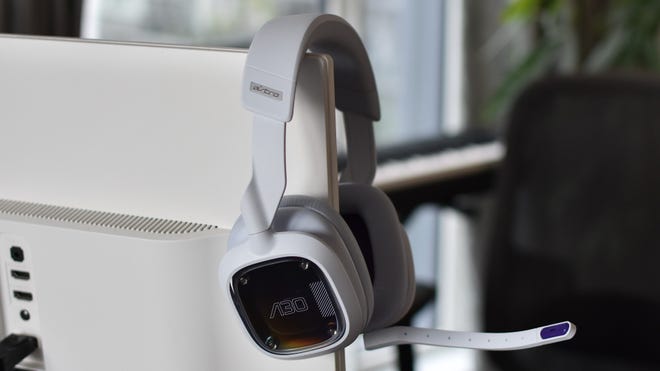 A lot of wireless headsets support different connection types, but few have the multi-device focus of the Astro Gaming A30. Besides switching between 2.4GHz, Bluetooth, and 3.5mm wired connections at will, its credentials as an everyday pair of headphones are boosted by its integrated backup mic (so you don't have to wear the removable boom mic out and about) and compatibility with the Logitech G mobile app.
Personally, I like my non-gaming headphones to have more of an understated look, but hey, it all works. The A30's neutral yet detail-rich sound profile, combined with the app's EQ customisation, means you can tinker with the headset's musical performance without being beholden to that same sound for your games. The boom mic also delivers that extra clarity you'd want on Discord, and the while it does want to show off, the overall design is good on practicalities. The memory foam ear cushions and tiny joystick control are particular highlights.
My only other initial concern was the price, but when you consider this is both a good gaming headset and a pair of headphones you can take on the commute, the expense is a lot easier to stomach.
---
Corsair HS65 Surround
The best gaming headset for mic quality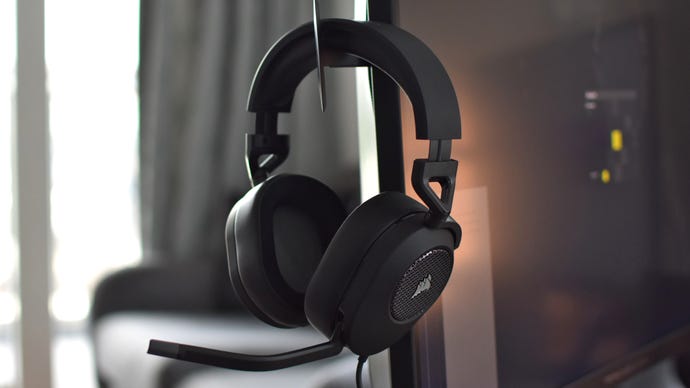 The Corsair HS65 Surround has plenty to recommend it: it's comfy, looks smart, and despite an attainable price, it can produce quite convincing digital surround sound when connected using the included USB adapter. And yet, what surprised me most was the clarity of its microphone. It's genuinely outstanding, and I can't believe Corsair isn't making a bigger deal about it. A couple of longtime friends, whom I regularly rope into helping me test these things, agreed it's the best headset mic they've heard me blather into.
As for the HS65 Surround's output, the out-of-the-box sound could be fuller, but Corsair's iCue software provides a couple of easy ways to tune it. The conventional EQ customisation will do the job, or you can employ the neat SoundID tool, which creates a personal sound profile by playing a series of two sound clips and asking which you prefer. Like those "better or worse?" opticians' tests, but for your ears. It seems gimmicky in theory but my own SoundID profile came out much closer to the punchy, bassy-yet-taut sound I'd initially hoped for.
---
Sony Inzone H3
The best lightweight gaming headset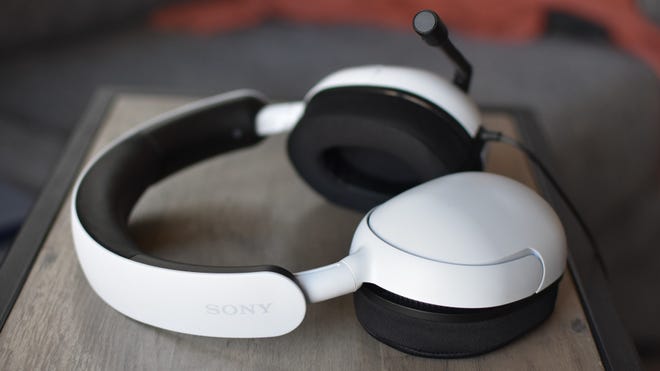 At a feather under 300g, and equipped with padding that's downright pillowy around the ears, the Sony Inzone H3 is one mighty comfortable gaming headset. It's a good-looking one too, which might suit you if you never developed a taste for the maximalist peripheral design shared by many of the others on this list.
As with a lot of lightweight headsets, the Inzone H3's airiness does come at certain costs. The only onboard control, for example, is the volume wheel. Yet build quality is good overall, and you can always raise the microphone to mute it, in lieu of a dedicated mute button. Speaking of the mic, it sounds far more crisp and detailed than its simple plastic design suggests, and that level of sound quality is largely matched by the earcups. Its 40mm drivers produce a balanced, neutral output that will suit most games out of the box – and if you want to add, say, a touch of bass, that's easy enough to do via Sony's Inzone Hub app and its EQ controls.
I should note that there are lighter headsets available, if that's why you're here: the Logitech G535, previously of this list, weighs just 235g. However, the Inzone H3 is cheaper, more comfortable, more cleanly styled, and better-sounding. That's probably worth a few extra grams.
---
Choosing the right gaming headset
Choosing a gaming headset can be an incredibly personal thing. Finding a gaming headset with good quality audio is obviously key, but it also needs to be comfortable. After all, you're probably going to be wearing this for several hours at a time, and it's no good if it sounds great but ends up giving you a headache after 30 minutes.
The other thing it needs is a good microphone. Again, there's no point having a great-sounding gaming headset, but your voice descends into a crackly mess every time you want to chat to your mates when you're playing online. Professional streamers often get round this by buying dedicated microphones, but having one that's built into your headset is much cheaper, easier and simpler for those on a budget, or who simply want something for chatting with friends. That's why we test for each of these three things every time we get a gaming headset in for review.
How we test:
Whenever we get a gaming headset in for testing, we look out for three keys things: comfort, good quality audio and a good quality microphone. The former can be very subjective. Everyone has a different shaped and sized head, and what's comfortable for one person may be a head-pinching nightmare vice for someone else. To test comfort levels, we simply try to wear a headset for as long as possible. The longer it lasts without pressing down on skulls and pinching jaw bones, the better.
In addition to playing a variety of games to judge sound quality, we also try out every headset as a pair of music headphones, listening to different genres and soundtracks to hear how they perform outside of games. Finally, we'll test microphones in a couple of ways: recording ourselves speaking into the microphone, to see how clear the audio is and how it handles plosive words and phrases, and hopping onto Discord to ask some trusted friends how the mic sounds on their end.
Gaming headset FAQ
Should I get wireless or wired headphones?
Gaming headsets fall into two broad categories: wired and wireless. Wired headsets are the most common, with most plugging into a USB port or a 3.5mm audio connection on your PC, and they're great if you want clean, uninterrupted audio.
Wireless headsets, on the other hand, tend to be more expensive than wired headset, but they're great for cutting down on the warren of PC cables you've got building up behind the back of your desk. They're also super convenient you're playing games on the TV in your living room, as it means you can kick back on the sofa without falling over a tangle of wires every time you get up to make a cuppa. They will need charging when they run out of battery, though, and their 2.4GHz wireless signal can get interrupted if you've got a lot of wireless devices in the same room or around your house. Neither I nor previous hardware ed Katharine have had this problem personally, but it can be an issue with certain headsets.
Can I use a PC gaming headset with a console?
Many, though not all, gaming headsets are multi-platform; as such you could potentially use them with a PS5, Xbox Series X or Nintendo Switch as well as on your PC or laptop. Check the headset's packaging or manufacturer website to find out if it's compatible with consoles.
Connection type is important here. Some gaming headsets only have a USB connection, for example; that's great for PC users, but not all consoles support USB headsets, so it's important to check the headset's specs beforehand. Even if a headset has a traditional 3.5mm audio connection, you should still check it's compatible with PC. Headsets with a single, combined 3.5mm headphone jack will work fine with consoles, laptops and phones, for example, but you'll need an dual 3.5mm adapter (shown below) if you want to use the headset's microphone on PC.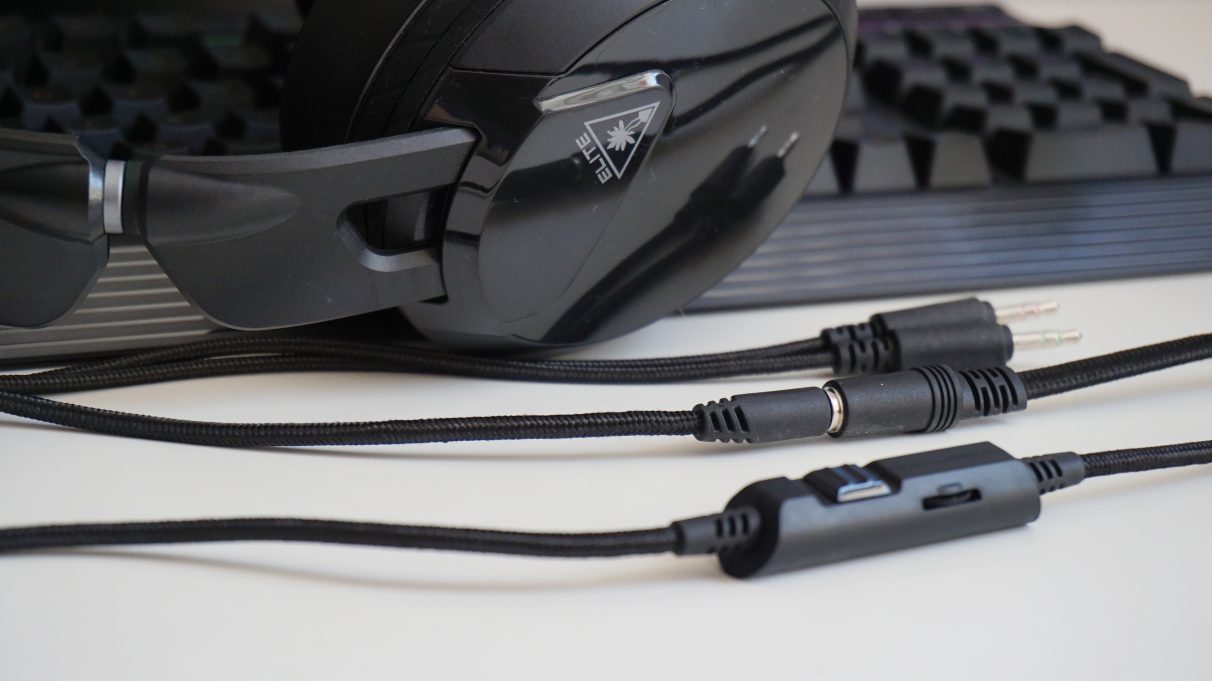 What are Hi-Res Audio headphones?
We're starting to see more Hi-Res Audio stickers appear on gaming headsets, but you don't need to worry too much about making sure you get one. Hi-Res (or High Resolution) audio is meant to provide the absolute pinnacle of music quality, with audiophiles saying it's akin to 'being right there in the recording studio' when you listen to it. This is because Hi-Res Audio has a much higher sampling rate (also known as bit-depth, or the number of samples taken per signal per second in the analogue-to-digital conversion process) than CD quality audio, which is meant to make it more accurate and more detailed than anything else currently available.
To throw some numbers into the mix, CD is specified at 16-bit or 44.1kHz, while Hi-Res audio is usually defined as either 96kHz or 192kHz at 24-bit. This is great if you already own lots of Hi-Res audio tracks or subscribe to a streaming service like Tidal, but it has limited use for gaming right now. It's currently unknown how many, if any, games support Hi-Res audio or whether you get any extra benefit over non-Hi-Res audio headsets. What's more, many people can't actually tell the difference between Hi-Res and CD, so you shouldn't feel like you need to pay extra to get one if you're only going to be using it for games.
What headsets do the pros use?
Pro gamers and streamers all use vastly different gaming headsets. Ninja uses the studio-grade Beyerdynamic DT 990 Pro headphones, for example, while Shroud has switched from a HyperX Cloud Flight Wireless to a Logitech G Pro X.
Myth and DrLupo also use a Logitech G Pro X headset, but Tfue uses the super expensive Sennheiser HD 800 S High Resolution headphones. Pokimane, on the other hand, often alternates between different HyperX headsets, most notably the Cloud Alpha and the Cloud Revolver, and Dakotaz uses an Astro A40.
What are headphone drivers?
A headphone driver is the technical term for the little speaker inside each earcup. They're the bits that convert the electrical signals coming from your PC into sound, so they're pretty important! They often vary between 20mm and 50mm in size, and most gaming headsets will have drivers with a 40mm or 50mm diameter.
Bigger doesn't necessarily mean better, though. Bigger drivers are louder than smaller ones, but their quality depends on a number of factors, including the way they've been designed and the materials used to construct them. There are multiple different types of drivers used in gaming headsets, and they all have their own advantages and disadvantages.
What is frequency response?
Frequency response is the range of sound frequencies produced by a pair of headphones. It's measured in Hertz (Hz) and is often represented by two numbers, such as 20Hz - 20KHz. The first number signifies the lowest bass frequency a headset is able to produce, while the second number represents the highest high-frequency it can produce. The average human can hear frequencies between 20Hz - 20kHz (or 20,000 Hz), and this is what most headsets tend to aim for as a result.
What is 7.1 surround sound?
In a traditional audio setup, a 7.1 surround sound system comprises of seven individual speakers and a subwoofer (the .1 bit). They're positioned around where your seating area, hence the 'surround sound' bit in the name, and create a more immersive aural experience. Lots of gaming headsets say they support 7.1 surround sound as well, but given that headsets often only have two drivers or speakers, it's never going to be true 7.1 surround. Instead, what they really mean is that they can do virtual 7.1 surround sound, which is done via software such as Logitech's G Hub, Steelseries' Engine, Corsair's iCue and HyperX's NGenuity software.
Sometimes, headsets will use a specific type of surround sound software, such as DTS Headphone X 2.0. This is a set standard, created by the audio engineers at DTS, that tries to recreate 11 different audio channels instead of seven: partly similar to technologies like Dolby Atmos and Windows Sonic for Headphones. However, only select games support DTS Headphone X 2.0, Dolby Atmos and Windows Sonic, so just because a headset supports it, doesn't necessarily mean all games are going to sound better as a result. In fact, enabling any kind of virtual surround sound feature usually makes your game audio feel like it's been turned into one great big echo chamber. Unless you're going to be watching a lot of films on your PC that support surround sound, it's usually better to stick to a simple stereo headset (or at least leave its surround feature turned off).
What is Logitech's Blue VO!CE?
Logitech's G Pro X headset is one of the few gaming headsets that supports Blue Voice, which is a type of voice filter technology used in Blue's Yeti microphones. It helps to make your voice sound clearer, richer and cleaner for a more professional level of voice chat, and it's really quite impressive in practice. It can't compare to a proper, dedicated microphone filter, but as an easy, all-in-one solution for those who don't have hundreds and thousands to spend on their gaming audio setup, it does an exceedingly good job.